THE PRODUCTION
Composers Anna Braithwaite and Michael Betteridge have teamed up to create a radical new music-theatre piece, staged by director Nick Blackburn called 'In Their Own Words'. The production premieres two new works, one from each composer, that set the stories of people facing life-changing diagnoses to a musical backdrop, using the subjects' own words as their source text. The composers have drawn upon an eclectic set of influences from both avant-garde and popular culture to create pieces for solo voice, clarinet, tape and percussion.
In an era where the rate of HIV-positive diagnoses are on the rise, Michael's work addresses the issue by telling the story of a twenty-one year old man living with the virus. Having conducted a series of interviews with his subject, the resulting text has enabled him to write a candid and intimate depiction of his daily life which interrogates attitudes to safe sex in the wider LGBT community.
Anna's piece scrutinises society's role in caring for people with dementia as her subject, a young woman, struggles to stay independent in her own home. The work uncovers universal themes of memory and identity in the issues affecting her daily life and celebrates the ingenuity of the human brain, even when under existential threat.
These are humourous and poignant musical portraits, told 'In Their Own Words'.
TOUR DATES
Running time: Approx. 55 minutes + post show discussion.
Age: 14yrs+
LONDON
Date: Saturday Oct. 1st 2016
Time: 7pm
Venue: Hackney Showroom, Hackney Downs Studios, Amhurst Terrace, London E8 2BT
Tickets: £10 / £8 concessions
Box office: book online
This show is appearing as part of the Andwhat? queer arts festival www.andwhatfest.com
FOLKESTONE
Date: Friday Sept. 16th 2016
Time: 7.30pm
Venue: Quarterhouse, Mill Bay, Folkestone, Kent CT20 1BN

Tickets: £8 / £6 concessions

Box office: 01303 760750 / book online
MANCHESTER
Date: Wednesday Aug. 24th 2016

Times: 6pm and 8pm
Venue: International Anthony Burgess Foundation, Engine House, Chorlton Mill, 3 Cambridge Street, Manchester, M1 5BY
See below for images taken at this premiere performance.
A promo for 'In Their Own Words', shot during a live performance on Saturday 1st October 2016 at Hackney Showroom, London.
Images of 'In Their Own Words' premiere at the International Anthony Burgess Foundation, Manchester on 24th Aug. 2016 by Lee Baxter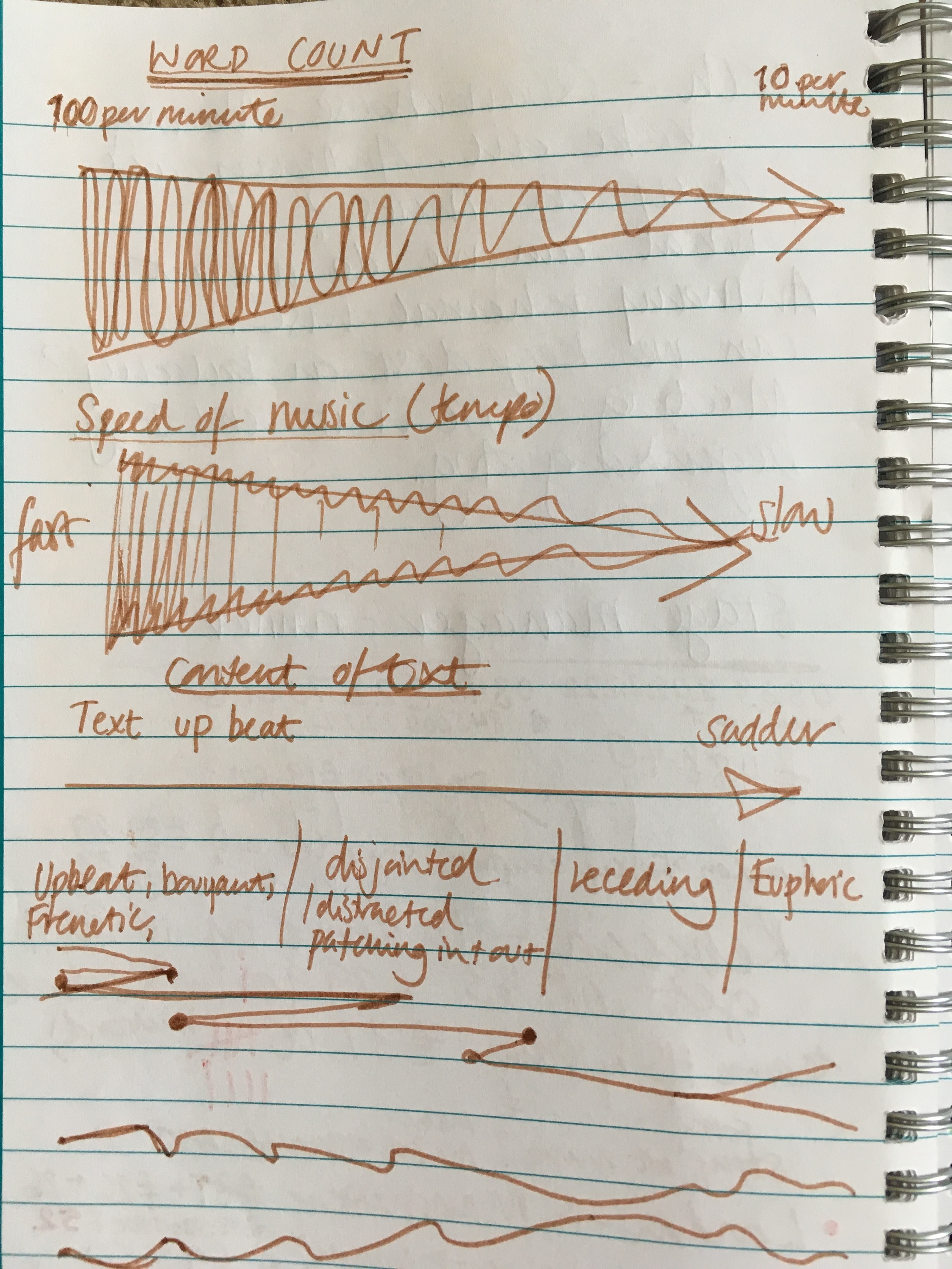 Hear excerpts from a demo of the opening moments of Anna's piece for female voice, clarinet and percussion 'Eastbrooke's Adaptation'. This first movement called 'Eastbrooke's Attention & Orientation' is based upon the subject's answers to the first section of Addenbrooke's Cognitive Examination. This is a basic test of memory and cognition often given to people who are showing signs of dementia in one form or another. Anna used the test to help create a structure for the whole piece and it worked as a catalysts for new themes and musical and dramatic inspiration.
Listen to excerpts from the first rehearsal of Michael's piece 'Positive' with Molly Lopresti playing percussion and Kat Browning on bass clarinet.
Hear Michael and Anna discussing their verbatim work and other interesting music being created using verbatim technique in the UK today on Resonance FM.